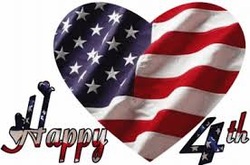 It seems fitting that on the 4 July as America celebrates the declaration of independence from British rule we acknowledge the contribution made by the proliferation of independent businesses. Power, ownership and control are the hallmarks of an institutionalised world and this is particularly evident within an industrialised economy.

Amidst a rapidly changing landscape buoyed largely by technological advances and the global gateway we now know as the internet, the playground for real transformational change both at a personal level and a business level is the micro economy. As the nature of work becomes more transient and itinerant larger numbers, by necessity or choice, are opting out of the mainstream and into the world of freelance, self-employment and enterprise.

The digital and knowledge economies give the people a voice. Social media and viral marketing channels allow us to communicate in real time across the globe. Whilst there remains a healthy cynicism about the influence of big brother we have access to a wider range of non-mainstream information channels.

The raison d'etre of independent business owners differs at its core to large public companies and corporate institutions. The strongest catalyst for Independent business owners going out on their own in pursuit of their dreams is not primarily for wealth creation but rather lifestyle choice. The most discernible difference between the economic drivers of big business and small business is not the pursuit of profit but rather the MAXIMISATION of profit.

Entrepreneurship, at its core, is the place where materiality and spirituality meet. A heartfelt mission or passion fuels the drive to do what you love, make a purposeful contribution and leave an enduring legacy. It's essence is creative. It is an invitation to create value. Sure, an institutionalised world offers employment opportunities and many of these are built around compliance and regulatory activities.

The heart of the entrepreneurial world beats as a conscious, creative collective and in large measure this is due to those that took a risk to pursue their dreams – in much the same way as our forefathers before us. So, today on Independents Day we salute those brave entrepreneurs who dared to dream and dared to pursue their dreams. Long may you prosper.



by Dennis Roberts


Have we met before? If this is your first time reading my posts, thanks for stopping by. If you liked what you read, FOLLOW ME here. I write blogs/ articles on a range of topics including career coaching, entrepreneurship, business and leadership. All my writing is infused with a daily dose of consciousness. Please feel free to share my message with your own social network.