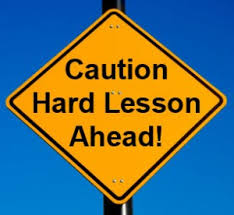 by Dennis Roberts

Amid the confusion of coaching and mentoring there a basic question that might be asked and it is this, "Whose lesson are you learning?" Most clients I come across don't draw a distinction between the two fields and quite frankly most don't really care if there is a difference. That said I have been on both the coaching and mentoring panels of one organisation and I'll share this with you - mentors often get paid more.

The argument put forward by mentoring groups is that you must have a pool of experience, generally senior executive experience, and lots of it. Largely considered the domain of greybeards it is possible the last bastion of the old boys club. When you engage a mentor the expectation is that you are paying for their experience. And there may be substantial economic value in that aforesaid experience. Now ask the question!

"Whose lesson am I learning?"

The real value of having a mentor is that you learn YOUR lesson. It has nothing to do with you learning the mentor's lesson unless there is some transfer of knowledge that benefits you. Otherwise you would just as well be served talking with your grandfather.

Mentors can give you a perspective on life's events that maybe outside your current paradigm of thinking. That is a knowledge transfer. Valuable.

Mentors can give you lessons and insights into how to navigate your way through a tough situation like a recession. It will only be relevant to the extent that there is something transferable. Learning how tough your grandfather had it during the Great Depression may give insight into his character but may not give you clues as to whether to lay off staff, cut costs or refinance your business.

Coaching v Mentoring

The best description I ever heard of the differences in modalities is that a coach is someone you learn WITH whereas a mentor is someone you learn FROM.

One of the most clichéd examples is of sporting coaches. Many sporting teams still subscribe to the belief that you engage a coach who knows how to play the game. I don't subscribe to this view. In much the same way a top gun sales person doesn't necessarily make a good national sales manager, a successful player doesn't necessarily make a great coach. They are very different skill sets.

The growing popularity of sports science now adds considerable weight to this argument.

Who has the intellectual property?

There is a distinction that needs to be made between a business proprietor and an entrepreneur. At the heart of it an entrepreneur comes up with the big idea and the vision for the business. The much vaunted entrepreneurial spirit is literally the seeding of an idea. From nothing arises something.

A growing number of businesses are franchise business systems. The conception of the idea, the entrepreneurial spirit, the spark of life is vested in the creator – the franchisor. The franchisee or licensee is a carbon copy of the original. There is nothing wrong with that, it is what it is.

The same is true for business coaches. Many are licensees or accredited agents for a brand or a methodology. Stick within the confines of the cookie cutter system and you are fine. Stray outside the parameters for innovation, reinvention and new paradigms of creative thinking and you are in unchartered waters.

The real thought leadership is with the person who developed the IP. And perhaps that is where the difference in coaching and mentoring fees can be traced.

Here's three things for you to do today:

1. Make sure you are learning your lesson. If the lesson doesn't appear relevant it may be that it's outside your current paradigm of thinking. It may be relevant but maybe you can't see how just yet. So ask, "How is this relevant to me?" … and keep on asking.

2. If there is a circumstance that someone has successfully navigated and it's a path you want to explore look for a mentor. Circumstances like an economic recession, start-up, merger or acquisition, downsizing, strategic exit, private equity raising, spill of the board, etc.

3. If you simply want someone to hold you accountable for your actions then choose a coach. It may work just as a personal trainer. A little guidance, some objectivity, fresh eyes and enthusiasm.